Ergometer bicycle system RE990 is the result of more than 30 years of extensive development in clinical physiological tests and therapy. We have produced over 3,000 bikes through the years. More than 250 bikes is used at the Swedish hospitals today. Rodby's versatile Ergometer bicycle system RE990 provides for effective solutions to the numerous problems that often occur in clinical testing and therapy.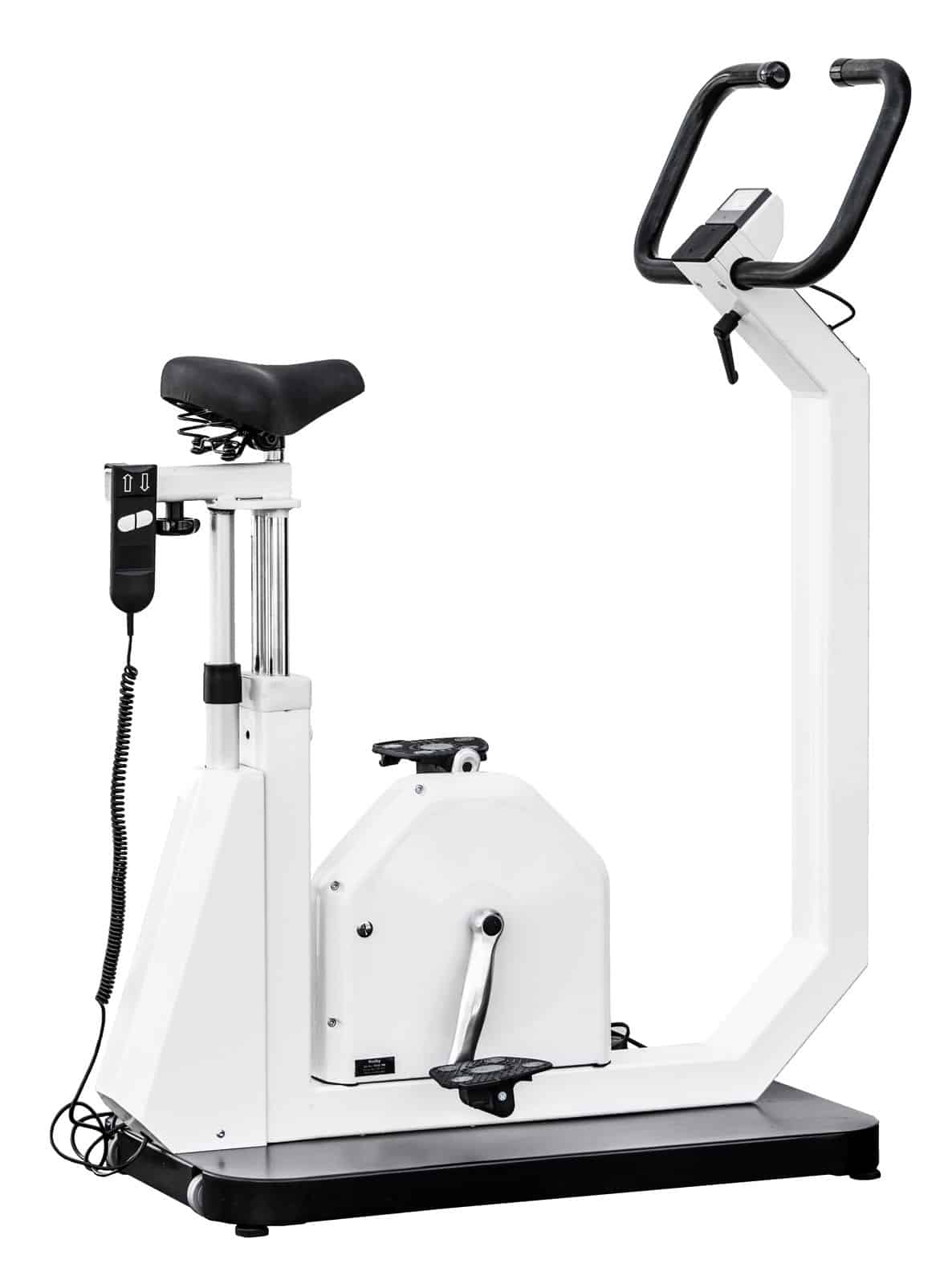 The ergometer bicycle RE990 is a highly sophisticated microprocessor controlled ergometer bicycle has been developed to meet the very high demands on accuracy, reproducibility and ease of use in this particular area. Exceptional accuracy is achieved by collecting all the measurements in and around the crankshaft. This technology – unique to Rodby ergometer bikes – makes it possible to measure and compensate for even the smallest losses caused by magnetic hysteresis, friction in bearings and gearbox and heat.
Rodby Constant Output Control System
Another valuable feature of the RE990 is Rodby Constant Output Control System. RCOCS system completely eliminates the problems associated with varying pedal speed. That means the test cycle, output power, in the range 20-500W (10-1000W that option) is completely independent of pedal speed. Whenever the desired output is selected on the RE990, so offset any speed change automatically by the corresponding change in torque. Due to advanced microprocessor technology is RE990 capable of performing these generator control adjustments more than 10 times a second.
Analogue and digital communication interface
RE990 provides full communication capabilities, through analogue and digital (RS232) interfaces with external equipment such as electrocardiographs, computer etc.. Optionally available Rodby Test Bikes available in versions fully compatible with Siemens MEGA CART. Adaptations to other protocols are under development. Analog ergometerkontroll is possible from Morgan, Marquette, Schiller and others.
Adjustability
The frame of Rodby ergometer bicycles can be easily adjusted to suit riding positions with rider lengths between 120-200 cm. Optional is adjustable crank arms to facilitate accurate riding position.
Models
Rodby RE 990
Rodby RE 990A
Rodby RE 990S
Ergometer bicycle photos
Note that the ergometer bicycle in the pictures is equipped with the optional electrically controlled saddle elevator.